Battle Slugs for iPhones and iPads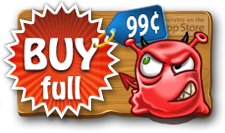 Slug is out!
Slug is out in a tense and cerebral territorial battle of good vs. evil with Battle Slugs!
Choose a side and command an army of sickly green ang
el slugs or inflamed red devil slugs to occupy the most cells possible on a variety of playing fields.
The rules are simple, yet the strategy is tricky: Each turn you have a chance to clone a slug into an adjacent cell, or leap one cell away. Immediately after a slug's move, all enemy slugs on bordering cells are transformed to the other color.
Take on a friend or play against the computer on three levels of difficulty, and try to conquer all fifty levels. Each level has its own unique form, with its own sweet spots and pitfalls. Each game features a backdrop from one of several unlockable locations, such as the desert, outer space, and a haunted cemetery.
Features include:
Original and colorful graphics, groovy soundtrack, and 'heliumptious' sound effects
25 unique levels of geometric hexiness
3 levels of computer opponent intelligence
Multi-player ability, so that you can play vs. your friend
High scores and custom achievements uploaded to Game Center
More slugs than your local escargot take-out restaurant can offer
subscribe
Enter your email address to be notified for all Battle Slugs news and events!
*We will not use your email address for any other purposes, and will NOT give or sell it to any third party.